The following commentary by Sen. Klobuchar appeared in the February, 5, 2015, issue of the Eden Prairie News: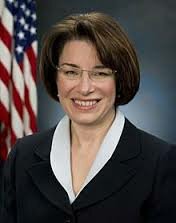 In 2014, Minnesota's unemployment rate sank to its lowest level in more than a decade at 3.7 percent, state exports reached a record $5.5 billion this past quarter, and our manufacturing industries continued to surge. Nationally, the economy added 321,000 jobs in November — the largest monthly gain in nearly three years — and gas prices continued to drop with the United States overtaking Saudi Arabia as the number one oil producer in the world.
With the economy improving, we are no longer governing from crisis — we are governing from opportunity. Especially as we head into a new year with a new Congress, Washington must put governing over gridlock and get things done that will move our economy and country forward.
I have always prioritized working with members of both parties and know progress is possible. Whether it has been passing legislation with Roy Blunt of Missouri to boost tourism or partnering with John McCain to reduce prescription drug costs, two-thirds of the bills I have led include Republican cosponsors. This blueprint of working across the aisle has proven to be successful. This past year, I passed eight bipartisan bills into law.
Starting this month, I will be taking on a new leadership position as chair of the Democratic Steering and Outreach Committee. This position will give me a chance to reach out to members across the aisle, as well as community leaders, businesses and policy experts, to identify areas of common ground and work together for the benefit of all Americans.
When it comes to priorities, we should start with rebuilding and revitalizing our infrastructure.According to the American Society of Civil Engineers, inefficiencies in infrastructure are expected to drive up the cost of doing business by an estimated $430 billion over the next decade. Traffic congestion alone costs the economy $121 billion per year. We need a 21st century transportation network that meets the demands of our 21st century economy. One idea with bipartisan support: creating incentives for companies to bring back some of the money they've got parked overseas and linking it to infrastructure improvements here in America. This is the kind of common-sense solution that we need to move forward.
With manufacturing continuing to grow, we should also take steps to ensure students and workers have the skills needed for the jobs of tomorrow that our businesses are creating today. In one recent survey, 67 percent of Minnesota businesses said it was difficult to find workers with the right skills and experience — up from 40 percent in 2010. To help close the skills gap, we need to look at creating partnerships between our community colleges and local businesses, as well as expanding access to apprenticeship programs for our students and workers. I will also be putting forward a bipartisan bill with Republican Sen. John Hoeven of North Dakota which would fund 100 new STEM high schools across the country and support promising scientific research to keep us competitive in the global economy.
Congress also needs to take steps that will make college more affordable. Outstanding student loans now total more than $1.2 trillion, surpassing total credit card debt and affecting 40 million Americans. To combat this problem, I am working to reform our student loan system and make college more affordable so that all our young people have the opportunity to succeed.
Despite the fact that the economy is picking up steam, a lot of families are still feeling pinched. That's why, in addition to tax reform, I will work to protect families' pocketbooks by fighting to lower costs on everything from cell phones to cable TV to prescription drugs. Lowering costs for these kinds of everyday items can make a real difference for families in Minnesota and across the country.
With the election behind us, the American people expect Congress to end the gridlock and get back to the business of governing. That will be my focus in 2015 — to do what's right for our state and country and get things done that will move our economy forward.
Amy Klobuchar · blueprint for success · Senator Klobuchar