Daily Brief: Thursday, Dec. 3rd, 2015
Posted by SD48 DFL Communications Team in Daily Brief, News
In the Know
Minnesota DFL
Dec. 3, 2015

Events today
8 a.m. – Lessard-Sams Heritage Council meets to review the RFP process for 2016.
11:15 a.m. – Minnesota Management and Budget Commissioner Myron Frans, State Economist Dr. Laura Kalambokidis, and State Budget Director Margaret Kelly will release the State of Minnesota November Budget and Economic Forecast.
11:45 a.m. – Gov. Dayton will hold a media availability in the Skjegstad Room at the Minnesota Department of Revenue, 600 North Robert St., St. Paul, to respond to the November forecast.
DFL legislative leaders will hold a press availability to comment on the November forecast. Taking part in the event, which will be held after Gov. Dayton's availability, are Senate Finance Committee Chairman Sen. Richard Cohen (DFL-St. Paul), House DFL Leader Rep. Paul Thissen (DFL-Minneapolis), Senate Taxes Committee Chairman Rod Skoe (DFL-Clearbrook), and Senate Tax Reform Division Chairwoman Sen. Ann Rest (DFL-New Hope).
2:30 p.m. – The Legislative Commission on Metropolitan Government will convene to elect officers an review Metropolitan Council Unified Budget for 2016.
Mark your calendars
Dec. 6 – DFL Disability Caucus social, 1 – 5 p.m., Eagles Club, 2507 E 25th St., Minneapolis. Hot dish, dessert, and coffee or tea available for $5, or order from the menu.
Dec. 8 – Special election in Dist. 3A.
Dec. 13 – Moms Demand Action: How to Keep Our Kids Safe. This free forum on preventing gun violence will be held at 2 p.m. at the Dakota County Library, 1340 Wescott Rd., Eagan. Guest speakers include Sen. Jim Carlson and Rep. Dan Schoen.
Dec. 13 – MYDFL will hold a central committee meeting. Noon, St. Louis Park Library.
· Dec. 15 – Hillary Clinton will visit Minnesota.
Dec. 16 – Congressional District 3 DFL Winter Party. 7 p.m. Nelson home, 8983 Preserve Blvd., Eden Prairie.
Dec. 17 – South Hennepin County DFL Senior Caucus will be meeting at 12:30 p.m. at Curran's, 4201 Nicollet, Minneapolis.
Fundraisers
Dec. 8 – Erin Maye Quade for State House-Campaign Kick Off [Dist. 57A], 6 p.m., Rascals Bar and Grill, 7721 147th St. W, Apple Valley.
Dec. 13 – Senate District 58 DFL will host its winter fundraiser from 4 – 7 p.m. at Carbone's, 10 N 8th St., Farmington. The tickets, which are $20, are available by mail: SD 58 DFL, 8251 166th St. W, Lakeville, MN 55044.
Jan. 29 – Congressional District 2 DFL will host A Taste of Mardi Gras. The event takes place from 7 – 11 p.m. at Neisen's Bar & Grill, 4851 W 123rd St., Savage. Suggested contribution is $40 and tickets can be purchased online at www.dflcd2.com.


2016 election
DFL staffs up for '16 election, Star Tribune
Intra-party challengers start to emerge, Pioneer Press
Congress
The odd congressional candidacy of David Benson-Staebler, MinnPost
Congress
House Freedom Caucus looking to flex its new muscle in 2016 races, Washington Post
President
Private memo lays out how the GOP would deal with Trump as its nominee, Washington Post
A radical proposal for Jeb Bush to save the GOP from Donald Trump, Washington Post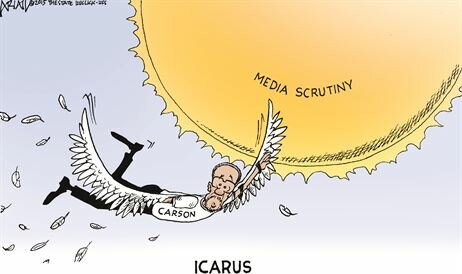 Ben Carson dives in national polls as support among evangelical voters sinks, Washington Post
How Elizabeth Warren is winning the Democratic presidential primary season, Washington Post
Memo on Donald Trump from Ward Baker to NRSC senior staff, Washington Post
Affordable Care Act
GOP on cusp of Obamacare win, The Hill

Black Lives Matter
Protesters criticize Rep. Ellison, who backs cause, MPR
Policing, economic concerns keep protesters at 4th Precinct, MPR
Governor: Forcible removal of Minneapolis protesters not my call, KARE
Police clearing Fourth Precinct protest site after neighbors bring frustrations to City Hall, Star Tribune
Mpls. police clearing 4th Precinct protest site, MPR
Arrests made as police clear protesters from 4th Precinct, WCCO
Minneapolis police tear down protesters' camp, Pioneer Press

Budget (state)
State faces expected surplus, of both money and ways to spend it, MPR

California shooting
14 killed in California social services center shooting; 2 suspects dead, motive unknown, Star Tribune
San Bernardino suspects identified; probe turns to motive, planning, Washington Post
How the 2016 presidential candidates are reacting to the California mass shooting, Washington Post

Education
Education Minnesota pushes for schools that serve as community hubs, Star Tribune
House votes to rewrite 'No Child Left Behind' _ but testing requirements remain, Star Tribune

Environment
Republican candidates slam Obama's focus on climate change, MPR

Labor
Walker Methodist trying again to bust union, workers say, Workday Minnesota
Minneapolis to host AFL-CIO racial commission, Workday Minnesota

Legislators
Dakota County employee charged for sharing data on Mack, Kelly, Star Tribune

Medical marijuana
Minnesota OKs using medical pot for pain, MPR

Mining
Gov. Mark Dayton will decide Thursday whether to go after Essar Steel Minnesota, Star Tribune
Dayton doubles down on PolyMet EIS, Mesabi Daily News
Minnesota cuts royalty payments for taconite producers, Pioneer Press

Poll
Trump favorability: Stable overall, divisions among groups (POLL), ABC
Public safety
Lawmaker looking to change MN hate crime laws, KARE

Shootings
The San Bernardino shooting continues a disturbing trend: No week since 2013 without a mass shooting,Washington Post
Where 2015's mass shootings have occurred, in 1 map, Washington Post

Special session
Minnesota legislature special session negotiations set for next week, Duluth News Tribune

Study
Study: Americans' trust in government at historic lows, MPR

Visas
Sen. Klobuchar among bipartisan group supporting visa program overhaul, Star Tribune
LIKE the Minnesota DFL on FACEBOOK: https://www.facebook.com/MinnesotaDFL
Follow @MinnesotaDFL on TWITTER: https://twitter.com/MinnesotaDFL
On INSTAGRAM: http://instagram.com/minnesotadfl
daily brief · issues · news