Daily Brief: Monday, April 20th, 2015
Posted by SD48 DFL Communications Team in Daily Brief, News
In the Know
Minnesota DFL
April 20, 2015

Events today
9:30 a.m. – US Attorney Andy Luger and FBI Special Agent in Charge Richard Thornton will hold a news conference to announce a Terrorism Task Force Operation.
9:30 a.m. – House GOP leaders will release their tax bill. State Office Building Room 181.
10 a.m. – House DFL Leaders will join Minnesotans that are being left behind by the Republican budget plan for a press conference in State Office Building Room 181. House DFL Leader Paul Thissen and deputy leaders will be joined by a teacher from Centennial High School, a server from Willmar, a MinnesotaCare enrollee from Fountain, and other Minnesotans who are being left behind by the Republican budget.
11 a.m. – The Minnesota House of Representatives meets in session.
11 a.m. – The Minnesota Senate meets in session.
Noon – The House Tax Committee will begin hearings on the Republicans' tax bill.
12:30 p.m. – The House Health and Human Services Committee will take public testimony on Omnibus Health and Human Services Finance bill (HF1638). Major reforms proposed in the bill address low medical reimbursement rates and workforce shortages in the health care industry. Provisions vary in the bill from tweaking MNsure's board and operations to eliminating the program altogether.
Lt. Gov. Smith will provide remarks at the American Competitiveness Exchange conference.

Event Wednesday
April 22 – The Lakes Area Progressive Caucus is in the formation stages of a group and input is needed. Those interested are encouraged to attend a meeting at the Perham Public Library from 2-4 p.m.
April 22 – Sen. Franken will host his fifth annual competition to determine which member of the Minnesota Congressional Delegation makes the best hot dish.

Save the date
May 2 – State Central Committee meets, 11:30 a.m., Carpenter's Hall, 70 Olive St., St.Paul.
May 16 – First membership meeting of the DFL Environmental Caucus. 1 – 4 p.m., Maplewood Library, 3025 Southlawn Drive, Maplewood.

Events you won't want to miss!
June 6 – Tickets are now on sale for the 4th Annual Humphrey-Mondale Dinner.
June 20 – Registration is now open for the DFL Training Summit. Attend and learn how you can help the party build to win, built to last.
2015 session
House Ways and Means Committee approved 2 controversial bills, KSTP
House Republicans detail proposed health care cuts, including end of MinnesotaCare, Star Tribune
Testimony expected Monday on HHS finance bill, Session Daily
Don't forget work for Greater Minnesota, Austin Daily Herald
Minnesota Political Notebook: It is an interesting time in government, Fargo Forum

2016 election
Bush and Rubio: Longtime alliance sours as mentor clashes with protégé in presidential primary, Star Tribune
The latest on 2016 from New Hampshire: Clinton-bashing is popular GOP sport, but not for all, Star Tribune
Huckabee will make presidential decision on May 5, The Hill
DNC planning primary debates for Hillary, The Hill
Author: Only 10 states matter in the presidential campaign, WCCO
GOP honing attacks on Clinton, Star Tribune
Huckabee warns of bloody Republicans primary in 2016, The Hill
New Hampshire could be make-or-break for Jeb Bush, The Washington Post
Republican hopefuls target middle-class insecurity as economy improves, Reuters
The New Hampshire GOP summit: 6 takeaways, Politico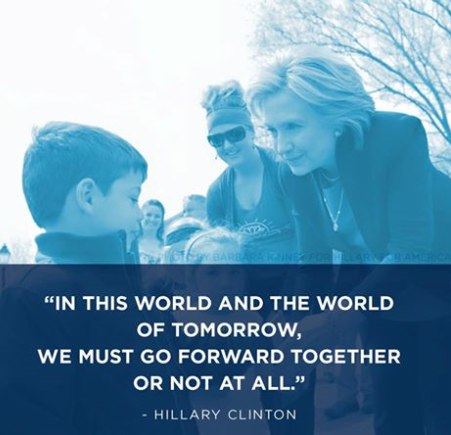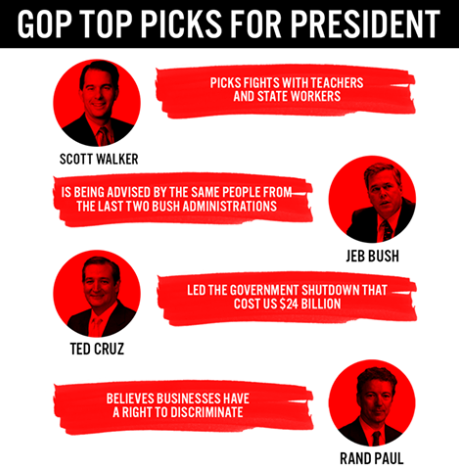 2016 session
House GOP wrestles with costs, politics of finding a home for 2016, WCCO

Broadband
House GOP adds broadband to budget proposal WCCO
Economic Development Advocates' View: Rural Minnesota may be used to slow Internet, but is fed up with slow legislators, Duluth News Tribune
Editorial: Follow through on broadband pledge to Minnesota, West Central Tribune
Our View: Don't kill broadband program, Mankato Free Press
Funding rural broadband, Ely Timberjay
Follow through on broadband pledge, Duluth News Tribune
State cuts would hamper rural access to Internet, Star Tribune

Budget (state)
Republican rush to cut spending could put some in party at risk, MPR
Don't hold your breath waiting for a check from surplus, Pope County Tribune
Revised HHS budget banks bigger cuts, MPR
Senate bills to fund state agencies, higher ed kickstart legislative budget work, Star Tribune

Congress
Bipartisanship breaks out on Capitol Hill with deals on Iran, education, trade; can it last? Star Tribune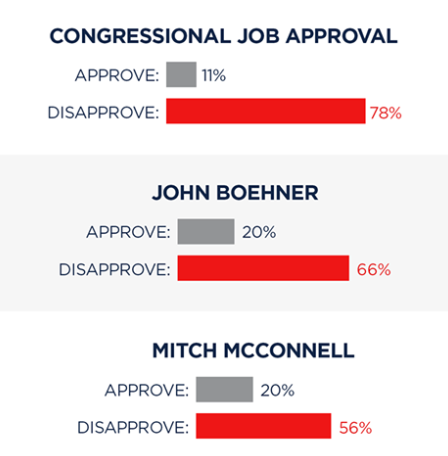 Congressional delegation
Emmer
Sixth District Rep. Tom Emmer's eyes opened on congressional African trip, Star Tribune
Franken
Franken to host 5th Annual Minnesota Congressional Delegation Hotdish Competition
On Wednesday, Sen. Franken (D-Minn.) will host his fifth annual competition to determine which member of the Minnesota Congressional Delegation makes the best hotdish casserole.
He will be joined by the rest of the Minnesota delegation, including Sen. Amy Klobuchar (D-Minn.), Reps. Collin Peterson (D-Minn.), Betty McCollum (D-Minn.), John Kline (R-Minn.), Keith Ellison (D-Minn.), Tim Walz (D-Minn.), Rick Nolan (D-Minn.), Erik Paulsen (R-Minn.), and Tom Emmer (R-Minn.).
"For the past five years, the Hotdish Off has been a time for us to put partisanship aside and find out who makes the best hotdish," said Sen. Franken. "I'm looking forward to seeing what everyone comes up with this year and spending some quality time with the other members of the Minnesota delegation."
In 2011, Sen. Franken started the friendly competition as a way to bring the delegation together to put partisanship aside and celebrate a Minnesota culinary tradition. Each member will provide a hotdish—traditional Minnesota fare, similar to a casserole—which will be judged based on taste, Minnesota ingredients, and originality.
Rep. Walz's "Turkey Trot Tater-Tot Hotdish" took the top prize in 2014, and his "Hermann the German Hotdish" took first place in 2013. In 2012, Sen. Franken's "Mom's Mahnomin Madness Hotdish" and former Rep. Chip Cravaack's (R-Minn.) "Minnesota Wild Strata Hotdish" tied for first place. Sen. Klobuchar took top honors in 2011 with her "Taconite Tater-Tot Hotdish."
After the event, recipes of all of the entries will be posted on Sen. Franken's website at franken.senate.gov.
Kline
Congressman John Kline believes Minnesota's wealthiest .2% need a tax break, City Pages
After easy re-election, Rep. John Kline hits snags in the more conservative House, Star Tribune
Nolan
Nolan joins call to reinstate 148th Bomb Squad partnership, WDIO
Nolan leading on jobs and the environment, Duluth News Tribune
National View: Nolan's commitment to problem-solving not seen since Kennedy, Duluth News Tribune

DFL Training Summit
Capacity building key focus of DFL training summit, Insight News

Demographics
Minnesota's youth exodus spells trouble ahead for labor force, Star Tribune

Education (early)
Dayton: 'Now is the time to make the push' for universal preschool, Star Tribune
Preschool funding fight shows teachers union's political muscle, Star Tribune
Education (K-12)
Minnesota GOP looks to screw schools, mn progressive project
Final education bill is still a big unknown, Pioneer Press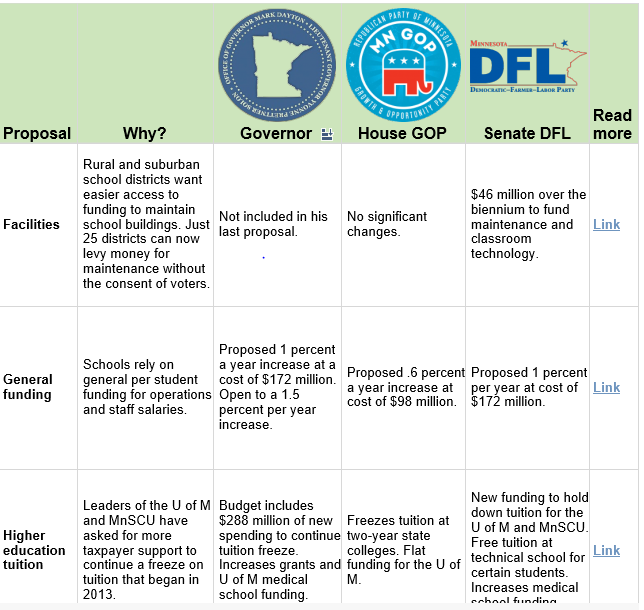 For the entire chart and live links, visit the Pioneer Press chart by clicking here.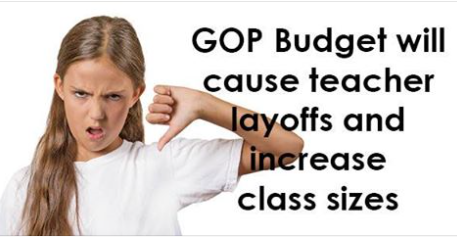 Education Minnesota
Preschool funding fight shows teachers union's political muscle, Star Tribune

Environment
Beneath budget dispute, a tussle over regulatory power, WCCO
Faster track for pollution permits gets good reviews, Pioneer Press

Fishing
Minnesota Lt. Gov. Smith, others kick off trout fishing at Whitewater, Winona Daily News

GOP
Letter: Are Republican leaders here when it really counts? Morris Sun Tribune
Policy from House GOP: Are we suddenly in need of austerity? mnpACT!
Norm Coleman's group: Here, an attack ad; there, a pat on the back, MPR

Guns
House approves a series of gun rights bills, WCCO
House votes to legalize silencers, approves other gun bills KSTP

Labor
New contract with Allina hospitals sets $15 minimum wage, Workday Minnesota
Tip credit proposal takes center stage at Eggs and Issues, Rochester Post Bulletin
Fast food workers shut down Minneapolis intersection, Workday Minnesota
Airport workers march on Delta subcontractor, Workday Minnesota

Local Government Aid
Return Local Government Aid to 2012 levels, Worthington Daily Globe

Major League Soccer
Why did Minnesota United's owners even bother asking for a property tax exemption for a new stadium? MinnPost
Council Member Andrew Johnson's April 16 McGuire email, MinnPost
Minnesota Capitol
Bringing the heart of the craftsman to the stone of the Capitol, MPR

MinnesotaCare
MinnesotaCare: House GOP brings out the budget axe mnpACT!
Revised HHS budget banks bigger cuts, MPR

Minnesota Sports Facilities Authority
Insider squabbles at Vikes' stadium board spill into public view, MPR

Public safety
Local ice rinks must spend big to meet new safety standards, WCCO

St. Paul School Board
'Change' candidates are big winners with St. Paul DFL, Star Tribune
St. Paul school board: No incumbents endorsed by DFL, Pioneer Press

Senate office building
Senate office building: This space coming soon, with vacancy, Star Tribune

Taxes
Rep. Greg Davids, House Republicans $2 billion tax cut legislation released, Star Tribune
Statement from House Minority Leader Paul Thissen
"The Republicans have made a choice that tax breaks for corporations and special interests are more important than educating our kids or investing in Minnesota's future. Since Republicans have made tax cuts their singular priority, many Minnesotans will be left behind.
"Despite a $2 billion surplus, Republicans are leaving our kids behind. They are providing less than a 1 percent increase in funding for E-12 education. In every corner of the state, and especially in Greater Minnesota, we have heard that shortchanging our schools like this will result in teacher layoffs and larger class sizes.
"Despite a $2 billion surplus, Republicans are leaving college students behind. They are underfunding higher education, which will force higher tuition and debt for students across the state.
"Despite a $2 billion surplus, Republicans are leaving Greater Minnesota behind. They are underfunding broadband infrastructure, cutting Greater Minnesota job creation initiatives, and shortchanging rural schools.
"Despite a $2 billion surplus, Republicans are choosing to eliminate affordable health care coverage from working Minnesotans, increase the cost of child care, and leave vulnerable children exposed to the risk of abuse.
"Families, students, and children across the state are being left behind so that Republicans can help their corporate special interests get ahead.
"These are the wrong choices for a better future for Minnesota. With a $2 billion surplus and growing economy, we should embrace this chance to create more opportunity for all Minnesotans to get ahead – not just cater to corporate special interests."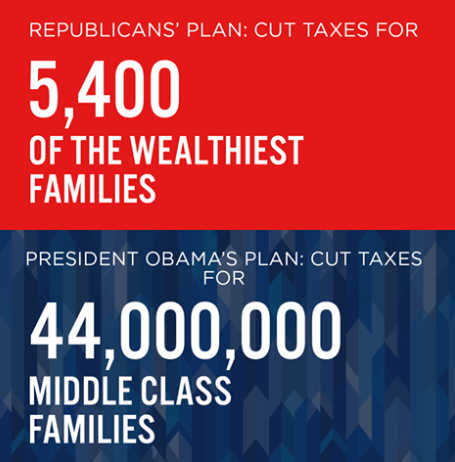 Transportation
Fund transportation to ensure Minnesota's future growth, Star Tribune
Feds order oil trains to slow down through cities, MPR
Dayton: Banning money for zip line 'foolish,' Rochester Post Bulletin
Minnesota needs a transportation fix, Park Rapids Enterprise
'Fix It Now, Fix It Right,' rally urges, AFSCME
LIKE the Minnesota DFL on FACEBOOK: https://www.facebook.com/MinnesotaDFL
Follow @MinnesotaDFL on TWITTER: https://twitter.com/MinnesotaDFL
On INSTAGRAM: http://instagram.com/minnesotadfl
daily brief · issues · news