by Ken Martin, Chairman, Minnesota DFL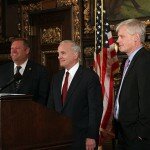 After years of budget deficits and Republicans kicking the financial can down the road, Gov. Mark Dayton and the DFL kicked off the 2014 Legislative Session with a $1.2 billion budget surplus. This is a far cry from the $6 billion budget surplus Gov. Dayton faced in his first session.
DFL leaders committed to using this money to continue their progress to build a Better Minnesota, and that's what they did.
Gov. Dayton and the DFL cut income taxes for more than 1 million lower- and middle-class Minnesotans, repealed business-to-business taxes; provide a raise for those caring for seniors and disabled citizens; and provided financial assistance for residents heating their homes with propane during the long-lasting, brutally cold winter. And for the first time in more than a decade, homeowners, farmers and businesses will see property tax relief.
The session will also be remembered for actions that will improve the lives of working Minnesotans and strengthen our economy.
Knowing it's wrong that people are working full time and living in poverty, Gov. Dayton and DFL legislators raised the state's minimum wage from $6.15 an hour, one of the lowest in the nation, to $9.50 an hour by 2016. More than 320,000 low-wage workers will now have more money to support their families, improve their education or purchase basic needs. The DFL Party was proud to be a member of the Raise the Wage Coalition, comprised of faith, labor and non-profit groups, who came together to advocate for the new law.
The Women's Economic Security Act (WESA) signed into law by Gov. Dayton provides stronger workplace protections for women. With so many women working in Minnesota, breaking down barriers to women's economic impact is a true win for families.
Every region of the state will benefit from the bonding bill passed by the Legislature. Not only does the bill invest in classrooms, civic centers and other projects that will help local economies, but it will put thousands of Minnesotans to work.
Also of note was the "unsession." Gov. Dayton signed more than 1,100 proposals into law that will streamline government and improve government services by eliminating unnecessary and outdated statutes and simplifying the language of our state laws.
This progress builds on the successes of the 2013 Legislative Session when Gov. Dayton and DFL leaders made an historic investment in education, including free all-day kindergarten; created a fairer tax system for the middle class; and provided property tax relief.
The past two years the DFL has led the state are in stark contrast to Republicans shutting down state government, borrowing money from schools and protecting the state's top wage earners at the expense of the middle class.
Gov. Dayton and the DFL's accomplishments over the past two years are a great way to launch the 2014 campaign. We look forward to talking to voters about how the DFL is the Party of opportunity for all. Under our leadership, there are more Minnesotans working than ever before, lower taxes for the middle class and investments that will pay long-term dividends and build a Better Minnesota.
2014 legislative session · Gov. Dayton · Governor Dayton · Governor Mark Dayton · Rep. Paul Thissen · Sen. Tom Bakk · Senator Majority Leader Bakk · Speaker of the House Paul Thissen
---
Comments are closed.