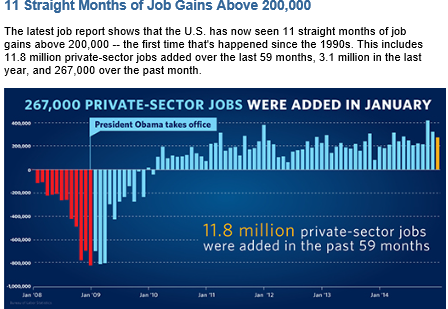 Last week, the Bureau of Labor and Statistics released the latest jobs report, which detailed 257,000 jobs gained in January, 2015, Wages are also on the rise. The positive numbers indicate the strongest 3-month job gain in 17 years and the latest report brings good news of a strong economic recovery.
The White House released the following statement from Jason Furman, Chairman of the Council of Economic Advisers:
"With today's strong employment report, we have now seen eleven straight months of job gains above 200,000—the first time that has happened in nearly two decades. We are also seeing nominal wage growth exceed the latest inflation readings, but additional steps are still needed to overcome the long-standing challenges affecting wages and family incomes. America is poised for another strong year, and so it is critical to avoid brinksmanship and unnecessary austerity, and instead to make investments in our future growth.
That's why earlier this week the President released a budget proposal that will help hardworking families make ends meet, while boosting America's productivity and giving workers the tools they need to secure well-paying jobs in the 21st-century global economy."
What are the main points in this report:
The private sector has added 11.8 million jobs over 59 straight months of job growth, extending the longest streak on record.

The labor force participation rate rose to 62.95 in January, and has been relatively stable, on balance, since October, 2013 — during which time the unemployment rate has fallen by 1.5%. The recent stabilization in the participation rate suggests that all of the decline in the unemployment rate over the past 15 months has been due to employment gains.

Nominal average hourly earnings for private production and non-supervisory workers have risen 2 % over the last 12 months — implying real wage growth of around 1%, but still below rates needed to overcome the long-standing challenge in this area.

Consistent with a general pattern of upward revisions during the recovery, job growth in November and December was revised up substantially, and the benchmark revision to March, 2014, added 91,000 jobs (on a seasonally adjusted basis).

Job growth in a number of industries diverged from recent trends in January.
2015 economic recovery · declining unemployment · job growth · rising wages