CONTRIBUTE!
VOLUNTEER!
CONTACT US!
Can You Host a Lawn Sign?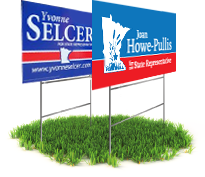 Our candidates are hoping to build visibility with lawn signs!
If you're willing to have one in your yard between now and Election Day, please e-mail us at info@dfl48.org. We'll pass your information along to our candidates.
Tweets by @DFL48
In the Know
Minnesota DFL
May 14, 2014
 
Events today
8:30 a.m. – Prof. Larry Jacobs moderates a "Conversation with Senate Minority Leader David Hann" at the U's Humphrey School.
9 a.m. – U.S. Rep. Tim Walz holds press briefings after meeting with local VA officials on veterans' wait times for medical care. 9 a.m., Mankato VA Community Based Outpatient Clinic; noon, Minneapolis VA Health Care System; 3 p.m. Rochester VA Community Based Outpatient Clinic.
9:15 a.m. – Gov. Dayton signs the "Expungement Bill," Governor's Reception Room, state Capitol.
10 a.m. – Gov. Dayton signs the "Kill Switch Bill," Governor's Reception Room, state Capitol.
10 a.m. – The Minnesota Senate is in session.
10 a.m. – The Minnesota House of Representatives is in session.
10:30 a.m. – Minnesota's annual Hmong American Day is celebrated. Opening ceremony, state Capitol, outside on Upper Mall.
11:50 a.m. – Gov. Dayton speaks at Hmong American Day.
6 p.m. – Closing ceremony for Hmong American Day, Minnesota History Center, main program in 3M Auditorium, 345 Kellogg Blvd., St. Paul.
7 p.m. – Gov. Mark Dayton speaks at Latino Economic Development Center Scholarship Awards and Annual Meeting. Los Ocampo Restaurant, 1751 Suburban Ave, St. Paul.
 
2014 election
How big a wave? The big question for 2014: Will we see a GOP ripple … or a tsunami? Politico
Governor
Outside group ads up in Minn. Governor race, WCCO
The Hounour ad, YouTube
Who is Alec Gores and why is he starting a PAC in MN, Residual Forces
Via a news release from Alliance for a Better Minnesota: "A PAC largely funded by Scott Honour's employer is going on the air this week with an ad supporting the GOP candidate for governor. …The PAC is largely funded by Alec Gores of The Gores Group, where Honour worked for many years…Gores gave $200,000 to the PAC in the first quarter of 2014, and the PAC had $250,000 cash on hand as of March 2014." Compete! MN PAC has only had three donors since it was formed about a year ago- two of them are from The Gores Group (Honour's former employer)…Steve Alpeter is listed as Chair and Treasuer, and listed as Treasurer on CFB reports. He and his wife already donated $2,500 to Honour's campaign. Morning Take
U.S. House
Twitter campaign sends Kline to 'No. 1' in Bill Maher's #FlipADistrict contest, Huffington Post
Tea Party-backed Mooney wins in W.Va., The Hill
Analysis: Tea party claims modest win in Nebraska GOP Senate race, but tougher tests await, Star Tribune
 
2014 session
Lesch to be released from Guard duty early, will return for final days of session, Pioneer Press
State Rep. Lesch called to National Guard; will miss rest of legislative week, MinnPost
Lawmaker called from Capitol for military service will return, Star Tribune
Senate OKs modification to proposed legislator pay constitutional amendment, Pioneer Press
Legislators strike budget deal that boosts healthcare workers, shorts transportation, MinnPost
Dayton signs several bills into law Tuesday, KSTP
Lawmakers spar over legislative pay ballot question, KARE 11
Minn. Senate passes amendment on lawmaker pay, MPR
Go inside a House of Representatives caucus meeting, Session Daily
The art of the political merge: a modest proposal to break impasse over the bonding and cannabis bills, Bluestem Prairie
2016 election
Tempest erupts over Clinton's health, Star Tribune
 
Budget (state)
DFL finalizes nearly $300 million in new spending, Star Tribune
 
Congressional delegation
Franken
Franken: We need to refinance student loans, MPR
 
E-cigarettes
Toughest e-cigarette restrictions stall in Minnesota Legislature, Pioneer Press
Conference committee compromises on e-cigarette regulations, Star Tribune
 
Education (K-12)
Minnesota Senate passes education policy bill, Pioneer Press
Education advocates embroiled in an 11th-hour battle over post-secondary 'gag rule', MinnPost
Minnesota Senate Majority Leader Tom Bakk on Tuesday took the unusual step of voting against a compromise bill from his own DFL education policy chair. The education measure from DFL Sen. Patricia Torres Ray passed the Senate 37-27 without Bakk's support. It includes a provision that would allow colleges to tell high school students how much they would save by taking college classes while still in high school. Colleges have been barred from sharing that information in a policy known as the Postsecondary Employment Options gag rule. Backers of rescinding the rule say students and families should be fully informed. But opponents, like Bakk, said the information means students make education decisions based purely on economics and could help colleges while hurting struggling high schools. "What's in the best interest of the community?" Bakk wondered out loud during debate on the Senate floor. Star Tribune
Environment
Congress poised to close Upper St. Anthony Falls lock to hold off Asian carp, Star Tribune
 
GOP
Where are all the Republican women? MSNBC
 
Healthcare
Red state refusal on MA expansion is the real healthcare failure, mnpACT!
Dayton signs bill giving some nurses more authority, MPR
 
Human services
New scrutiny for caregivers, including fingerprints, Star Tribune
 
Lottery
Scrapping Minnesota Lottery online games would cost $4 million, Pioneer Press
Legislators renew skepticism of lottery's Internet sales, Star Tribune
Medical marijuana
2 views of legal medical pot head to committee, WCCO
Medical marijuana future foggy, Capitol Chatter
Medical marijuana stare-down: the issues that divide Dayton, House and Senate, MinnPost
Among the sticking points:

Whether patients have access to up to 2.5 ounces of marijuana leaves to vaporize
Whether Minnesota — the 12th-biggest state by square miles — should have three, or 24, or 55 dispensaries
Whether 5,000 or 35,000 Minnesotans should be covered
MNsure
MNsure reaches out to college students who may lose health insurance when they graduate, Star Tribune
 
Oberstar
Lawmakers want to name federal transportation building for Oberstar, Star Tribune
 
Target Center
Target Center: latest exterior images released, MinnPost
 
Transportation
Legislature on roads, transit: 'You can't even really call it a band-aid', MinnPost
Met Council engineers working to speed up travel time on Green Line, MPR
daily brief · issues · news
---
Comments are closed.